A spur of the moment thought, I decided to check out the wildlife haven known as the Cattai Wetlands, in Coopernook, NSW.
Located just North of Taree, it is a 509 hectare parcel of land, originally cleared for cattle grazing, that in 2003 was selected for restoration and re-vegetation back to the natural beauty and ecological value of the original wetland area that existed here. It is part of the traditional lands of the local Aboriginal Biripi People.
To say the 2.3km round trip walk was easy would be an overstatement; it was basically dead flat, all paths tidy and grass mown and ample signage. There is a great spot to "drop off some timber" before the walk too, with a clean and modern flushing toilet block right next to the car park; not one of those drop toilets where you worry about redbacks/snakes under the seat, or wonder how you might get out if you were to fall in… or is that just me?
Arriving at 7:08am, I found I had the whole place to myself. Being a Sunday the wetlands were open from 7am-5pm.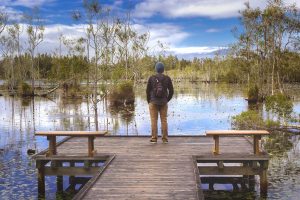 I followed the path to the left where it wasn't long until I came across marker no.1 with some friendly but timid Wallabies hanging out on the track having brekkie. After talking to them for a while (they didn't talk back just FYI) trying to get them to pose for me I got a few photos and followed the track onwards, as it takes you past a huge, modern covered area with 8 picnic tables, then on to the viewing platform overlooking the entire wetlands water system. There were about 20 ducks hovering around in the water here and more scattered throughout the whole area.
An elevated boardwalk takes you through the next section of wetlands, taking you up to other scattered picnic tables, where you can choose to add an extra 1.1km to the walk on the Lookout Loop, or continue around the outskirts of the wetland area. There is a bird hide under construction here, though it wasn't quite completed when I visited. I managed to photograph a couple of Black Swans that were grooming themselves not far away. There was a giant dragonfly perched on a branch nearby also; not realising it is quite a rare and threatened species I didn't get a photo of it… dammit.
The rest of the walk continued fairly effortlessly around the edge of the wetland, passing grassy paddocks and other watering holes and bridges, where I arrived back at the car park (and that awesome toilet block!) and began to make my way home.
Are you into birding? Check out this extensive list of birds found at the Cattai Wetlands compiled by Alan Stuart, member of the Hunter Bird Observers Club.